May 24, 2021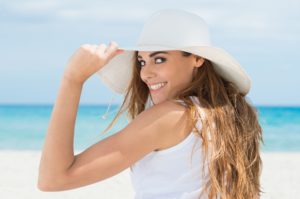 Living without a full set of teeth can be difficult, to say the least. Not only do you have trouble chewing, but you avoid showing off your smile and being outgoing in social situations. Summer is just around the corner, but this year, you don't have to hide your smile and true personality from the world. Keep reading to find out why summer is the best time of year to replace your missing teeth with dental implants!
What Are Dental Implants?
In terms of tooth replacements, dental implants are unlike any other. They recreate the stability of natural teeth by bringing back the root structure of a tooth – the part that is normally hidden underneath the gums. A dentist surgically places one of these titanium posts into your jaw. There, it fuses with the surrounding tissue and bone. Once this process – called osseointegration – is complete, your dentist can place a lifelike dental crown, bridge, or denture on top of it.
By replicating every section of missing teeth, dental implants truly stand above the crowd. With dental implants, you'll enjoy replacement teeth that look, feel, and function just like your real ones!
Why Is Summer the Best Time to Get Dental Implants?
There's never a wrong time to restore your smile, but summer is ideal for a few reasons:
Workplaces are generally more lenient about taking time off during the summer. Dental implants require multiple appointments, so it should be easier to fit these visits into your schedule.
After dental implant surgery, you'll have to stick to a soft food diet for a few days. Luckily, many classic summer foods are soft, such as mashed potatoes, applesauce, and ice cream. You'll be able to enjoy relaxing fun in the sun with friends and family while you're healing.
Osseointegration usually takes between three and six months. If you begin the dental implant process this summer, you'll likely be finished in time to display your new pearly whites at all of the winter holiday gatherings.
Start Rebuilding Your Smile Today!
Don't let tooth loss keep you from having a summer worth remembering. If you're ready to have a complete, healthy smile that's as radiant as the summer sun, then schedule a consultation with your dentist today to find out if dental implants are right for you!
About the Authors
At Village Dental in Reno, NV, Dr. Megan M. Cercek and Dr. Maggie Rodriguez provide comprehensive dental care that is equal parts professional and compassionate. They treat each of their patients as if they were a member of their own family – and they wouldn't want a family member to suffer through the difficulties of missing teeth! They partner with the best oral surgeons and periodontists in the Reno area for dental implant placement to ensure that your treatment is of the heist quality. To learn more about why summer is the best time to get dental implants in Reno, contact Village Dental at (775) 827-1113.
Comments Off

on Why Summer Is the Perfect Time to Get Dental Implants
No Comments
No comments yet.
RSS feed for comments on this post.
Sorry, the comment form is closed at this time.