Dental Implants – Reno, NV
A Permanent Solution
for Tooth Loss
Whenever a patient comes to Village Dental hoping to replace their missing teeth, we always recommend dental implants first. Why? Because compared to every other option, they offer the most natural-looking, durable, and aesthetic results. They are basically the next best thing to real teeth, and Dr. Cercek and Dr. Rodriguez have already used them to give countless patients their smiles and confidence back. If you're ready to close any unwanted gaps for good, contact us today to learn more about replacing missing teeth with dental implants in Reno, NV.
What is a Dental Implant?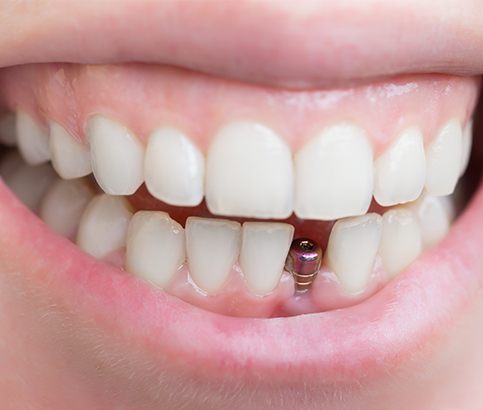 A dental implant is essentially a replacement tooth root. A small titanium post is positioned within the jaw in the space formerly occupied by a tooth, and there, it actually melds with the bone. This makes it extremely stable, and then it can be topped with a crown, bridge, or denture to restore the visible portion of a tooth. To date, implants are the only dental prosthetic that has a two-part structure just like natural dentition.
Benefits of Dental Implants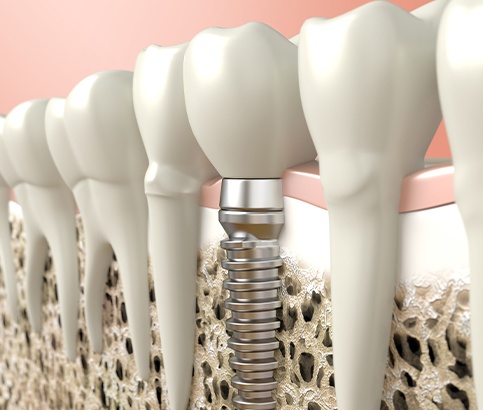 Because dental implants are held by the jawbone, they never slip or shift during speaking or eating.
Thanks to their unmatched stability, patients are able to eat whatever they like with implants, including crunchy, hard, and chewy foods that should be avoided with other restorations.
Implants actually stop the bone loss associated with tooth loss, which helps protect a patient from losing any more teeth.
While a regular bridge or denture can be expected to last about 7-10 years, dental implants have been shown to endure 30 years or more.
Are Dental Implants Right For You?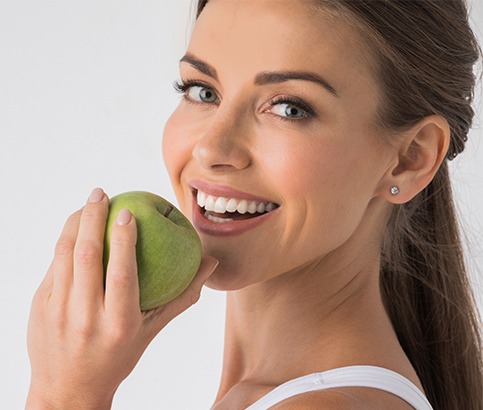 Whether you're missing a single tooth, all of them, or a number in between, our team can use implants to help you recover your smile and renew your oral health. After we give you an exam, we'll recommend one of the following procedures…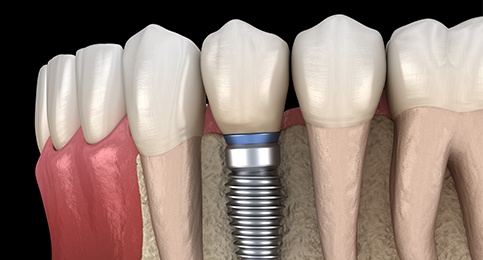 Missing Single Tooth
A dental implant root is placed between two healthy teeth and topped with a custom-made crown. The advantage of single implants is that the adjacent teeth don't have to be reshaped to make room for the prosthetic, preserving someone's remaining dental structure.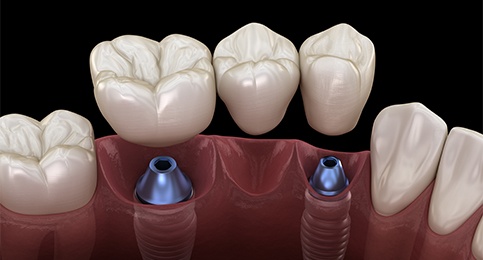 Missing Multiple Teeth
Single implants can be placed throughout the mouth as needed to close any gaps, but for spaces left by two to three missing teeth, a bridge can be supported using just one to two implants. This is not only extremely cost-effective, but implants also make bridges much more stable compared to removable ones.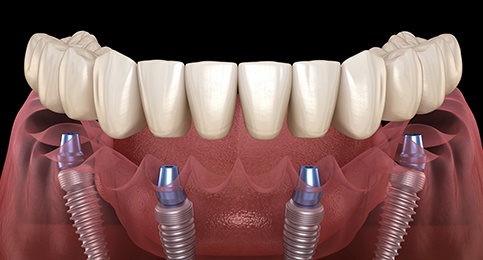 Missing All Teeth
To replace an entire row of teeth, only four to six implants are needed to attach a full denture to the jawbone. In addition to having a more comfortable fit than a removable prosthetic, implant dentures also allow a patient to have a stronger bite and eat a wider variety of foods.
Partnered with Reno's Best Specialists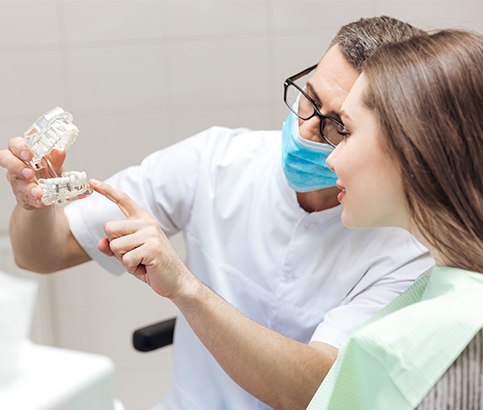 Village Dental partners with some of Reno's best oral surgeons and periodontists to perform the surgical portion of dental implant treatment, where the new roots are actually placed into the jaw. Once a patient's mouth heals, they will return to our dental office to receive their new teeth. This team-based approach ensures a patient enjoys premium care from start to finish, guaranteeing a positive result before the process even begins.
Understanding the Cost of Dental Implants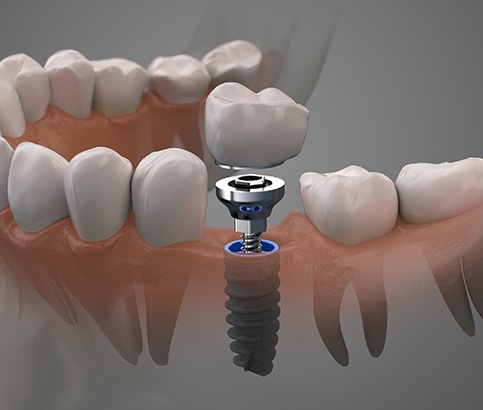 Dental implants are a very versatile treatment, and they need to be in order to help patients dealing with varying degrees of tooth loss. Because of this, the cost is always different from person to person. When you come to see us for a consultation, we'll discuss everything that can affect the price, such as how many implants you need, where they will be located, and what kind of restoration they will support, so you know exactly what to expect.