Invisalign – Reno, NV
The Easy Way to Get Straighter Teeth
If you want to straighten your teeth and achieve a truly eye-catching smile, you have to wear metal braces for years, right? Not at Village Dental! With Invisalign, we can fix crooked, crowded, and gapped teeth without filling your mouth with unsightly brackets and wires. This treatment is comfortable, discreet, and proven to deliver beautiful results that will last a lifetime. It's perfect for teens and adults alike, and you can get started by giving us a call today to discuss smile alignment with Invisalign in Reno, NV.
What is Invisalign?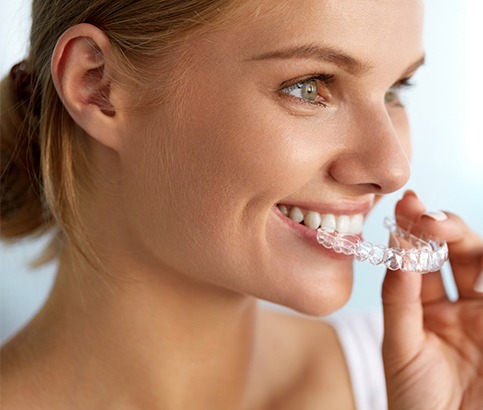 Invisalign works just like regular braces to straighten the teeth, but instead of using brackets and wires to move them into their new positions, this is accomplished by a progressive series of clear plastic aligner trays. Each set is worn for about 20-22 hours a day, slowly bringing someone toward their final result. The trays are custom-made based on an impression of a patient's smile to guarantee a comfortable fit and effective treatment.
Invisalign vs. Metal Braces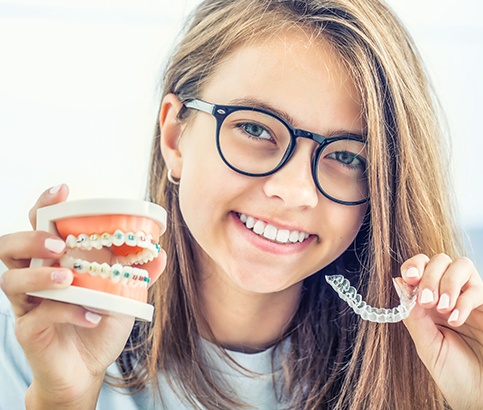 There are several reasons patients around the world are choosing Invisalign instead of metal braces, with a few being:
The aligners practically disappear when placed over the teeth, meaning a person can go throughout their day with complete confidence that no one will notice their treatment.
Invisalign is removable, so a patient doesn't have to alter their diet or oral hygiene habits like with braces.
Made of smooth plastic, Invisalign feels great against the gums, lips, and cheeks, so patients don't have to deal with irritation like with braces.
Fewer progress appointments are necessary with Invisalign compared to braces, which helps patients save a tremendous amount of time over the course of treatment.
Who Should Get Invisalign?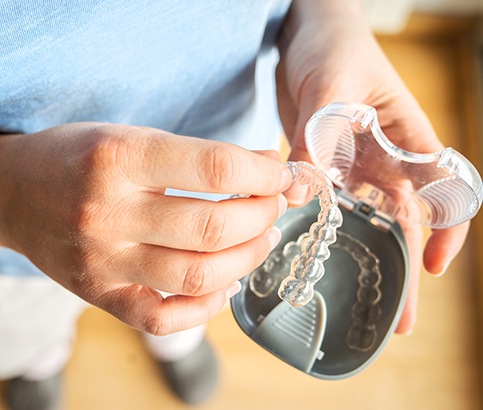 Invisalign is specifically designed to correct mild to moderate orthodontic issues for teens and adults. It is NOT recommended for young children because their mouths and jawbones are still growing and rapidly changing, and metal braces are better suited for this situation. Invisalign is also not recommended for advanced bite problems, like a pronounced overbite, underbite, or crossbite. When you come to Village Dental for a consultation, we'll perform an exam and let you know whether or not Invisalign would be a good fit for you or your child. If not, we can offer you other options to achieve the results you desire.