Invisalign – Reno, NV
The Easy Way to Get Straighter Teeth
If you want to straighten your teeth and achieve a truly eye-catching smile, you have to wear metal braces for years, right? Not at Village Dental! With Invisalign, we can fix crooked, crowded, and gapped teeth without filling your mouth with unsightly brackets and wires. This treatment is comfortable, discreet, and proven to deliver beautiful results that will last a lifetime. It's perfect for teens and adults alike, and you can get started by giving us a call today to discuss smile alignment with Invisalign in Reno, NV.
What is Invisalign?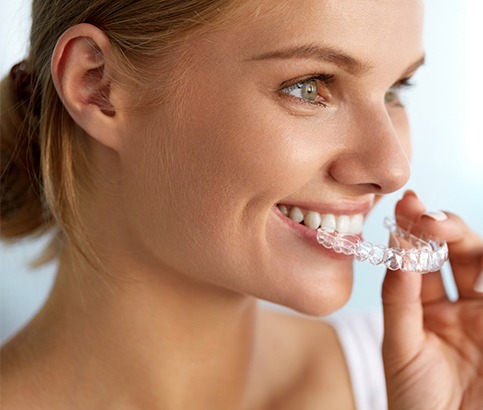 Invisalign works just like regular braces to straighten the teeth, but instead of using brackets and wires to move them into their new positions, this is accomplished by a progressive series of clear plastic aligner trays. Each set is worn for about 20-22 hours a day, slowly bringing someone toward their final result. The trays are custom-made based on an impression of a patient's smile to guarantee a comfortable fit and effective treatment.
Invisalign vs. Metal Braces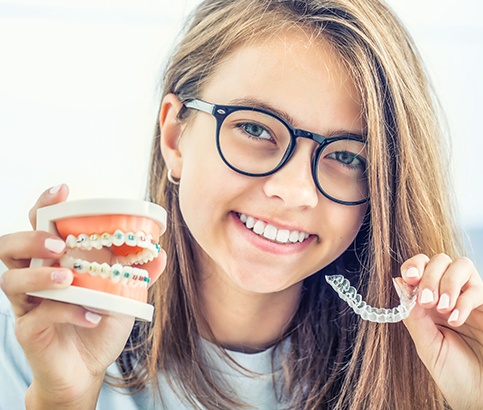 There are several reasons patients around the world are choosing Invisalign instead of metal braces, with a few being:
The aligners practically disappear when placed over the teeth, meaning a person can go throughout their day with complete confidence that no one will notice their treatment.
Invisalign is removable, so a patient doesn't have to alter their diet or oral hygiene habits like with braces.
Made of smooth plastic, Invisalign feels great against the gums, lips, and cheeks, so patients don't have to deal with irritation like with braces.
Fewer progress appointments are necessary with Invisalign compared to braces, which helps patients save a tremendous amount of time over the course of treatment.
Who Should Get Invisalign?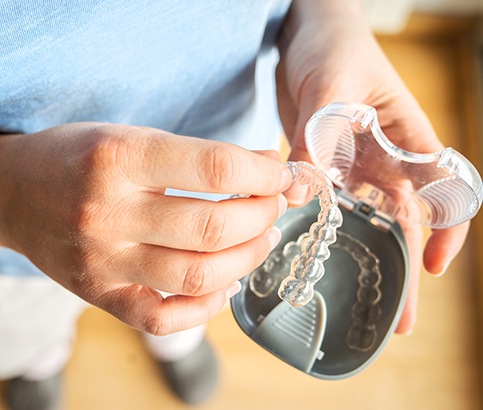 Invisalign is specifically designed to correct mild to moderate orthodontic issues for teens and adults. It is NOT recommended for young children because their mouths and jawbones are still growing and rapidly changing, and metal braces are better suited for this situation. Invisalign is also not recommended for advanced bite problems, like a pronounced overbite, underbite, or crossbite. When you come to Village Dental for a consultation, we'll perform an exam and let you know whether or not Invisalign would be a good fit for you or your child. If not, we can offer you other options to achieve the results you desire.
Understanding the Cost of Invisalign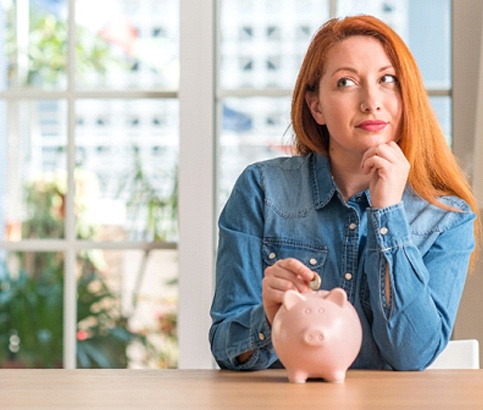 For patients who don't want to spend their orthodontic treatment with metal brackets and wires, Invisalign is an excellent alternative. It has so many unique benefits that you can't experience with traditional braces. Before you commit to treatment, it's important that you understand the cost so you don't end up with unnecessary surprises. To find out exactly how much you can expect your treatment to cost, schedule a consultation with us. In the meantime, here are some things for you to consider.
Factors that Affect the Cost of Invisalign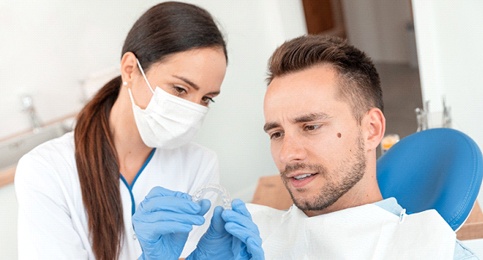 The cost of your Invisalign treatment will vary depending on a few different factors. Here are some of the more prominent:
Number of Arches: Most people who undergo Invisalign treatment will need to have both their upper and lower teeth addressed. However, in some cases, only one arch needs to be addressed. If this applies to you, the cost will be lower.
Complexity: If you have more severe alignment issues, your treatment will probably cost more. Closing a few small gaps is less costly than correcting a significant bite problem.
Length of Treatment: A longer treatment time means more aligners and a higher cost.
Invisalign VS Smile Direct Club™: Which Costs More?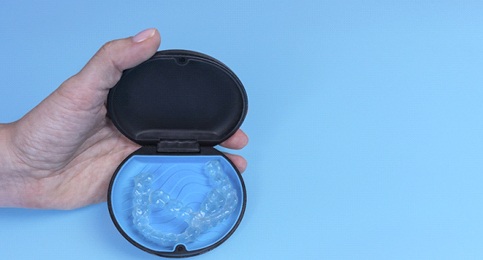 When a patient is looking for a "quick fix," lower budget options, like Smile Direct Club™, are tempting. However, a lower cost doesn't mean that it is a better option. The price is generally lower than Invisalign, but treatments like Smile Direct Club™ have a do-it-yourself approach with little to no oversight from a dental professional. This means more room for error, and you could end up with serious problems that will need to be treated by a dentist anyways.
With Invisalign, you have the trusted oversight of our dentists for every step along the way. Invisalign is professionally made, uses highly accurate impressions, and results in a more successful treatment. The cost difference is certainly worth it for a smooth, stress-free treatment.
Does Dental Insurance Cover Invisalign?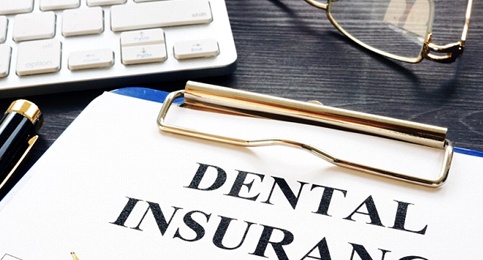 Some dental insurance plans include partial coverage for orthodontic treatment, so you should check with your provider to see if this applies to you. Our team is also happy to help you understand what your plan consists of. If you have any questions, give us a call.
Options for Making Invisalign Affordable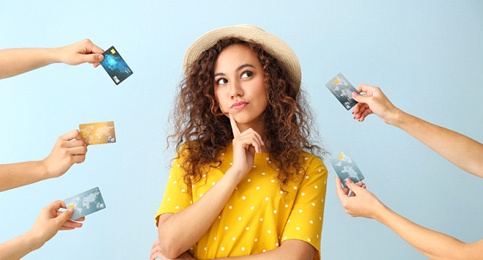 If you don't have dental insurance, this doesn't mean that you will be left in the dust. We have an In-House Dental Savings plan that can help you save on treatments completed at our practice. We also work with CareCredit – a third-party financing company that can split the cost of treatment into manageable monthly installments with little to no interest. To learn more about your financial options, talk to one of our friendly team members.
To find out exactly how much you can expect your treatment to cost, schedule a consultation with us. We're eager to help you achieve a straighter smile!
Invisalign FAQs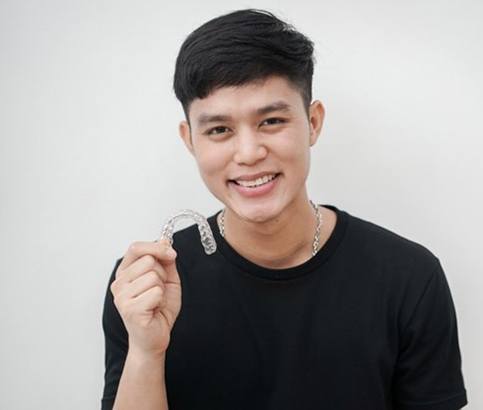 Thanks to Invisalign, countless adults and teens have been able to enjoy straighter smiles without compromising their appearances. Even if you'd like to be among that group of people, starting the Invisalign process isn't a decision you should rush to make. You need to be well-informed beforehand, and our team at Village Dental would love to help with that! While your cosmetic dentist in Reno will gladly answer any of your Invisalign-related questions when you visit us for a consultation, you're welcome to read the answers to some of our most frequently asked questions below.
How Long Does Invisalign Take?
No two Invisalign cases are exactly alike, so the treatment timeline varies from patient to patient. To give you an accurate estimation of how long the Invisalign process will take, you'll need to have Dr. Cercek or Dr. Rodriguez evaluate your mouth and determine the specific movements your teeth need to make. Generally, the more misaligned your teeth are, the longer it will take to straighten them.
On average, Invisalign in Reno takes between 12 and 18 months to finish delivering results. Although 18 months may seem like a long time, keep in mind that traditional braces usually take 22 to 36 months.
How Do I Clean My Invisalign Trays?
With Invisalign, you can brush and floss like normal, but you'll still need to take good care of your aligners if you want to keep your treatment on track. You can purchase an Invisalign cleaning solution straight from the Invisalign company, but you can also gently scrub your aligners clean with a soft-bristled toothbrush (NOT the same one you use to brush your teeth) and clear antibacterial hand soap. Whenever you remove the trays, be sure to rinse them off and brush your teeth before placing them back in your mouth. Otherwise, food debris and bacteria could get caught between the aligners and your teeth.
Remember to only use lukewarm or cold water when cleaning your Invisalign trays. Hot water could cause the plastic to warp or crack, jeopardizing your treatment timeline.
Is Invisalign Cheaper Than Braces?
There is no fixed cost of orthodontic treatment, whether that's traditional braces or Invisalign. The prices of both can vary based on a patient's degree of misalignment, but in general, braces and Invisalign tend to cost about the same.
Sometimes, Invisalign may seem more expensive because dental insurance is less likely to cover it than traditional braces. Still, patients overwhelmingly claim that the day-to-day benefits of Invisalign make it well worth the higher price.
Does Invisalign Hurt?
Compared to metal braces, Invisalign is incredibly comfortable. Instead of sharp brackets or wires that poke and prod the soft tissues in your mouth, Invisalign's trays are made from smooth plastic.
That said, all orthodontic treatment involved forcing your teeth to move into different positions, so some slight discomfort is to be expected even with Invisalign. When you first begin wearing the aligners, or when you switch to another set of aligners during the course of your treatment, your teeth will probably feel sore, but it's rare to experience outright pain. This discomfort should pass within a few days, but taking over-the-counter pain relievers and using cold compresses can help while you adjust.